Providing status updates on orders is only the start when it comes to adding value to the post-purchase journey for both customers and retailers, says Julia Henry at parcelLab.
Post-purchase emails informing customers about the progress of their online order boast the highest opening rates of all customer communication. This means that sticking to basic notifications like: "Your order has been shipped" is not only boring, but also means you are missing out on the perfect opportunity to engage directly with your customers to promote your brand and deepen loyalty.
Of course, you can't simply bombard customers with marketing messages or you're likely to annoy them and worsen your relationship rather than improve it. So what can you say that will add real value and have them coming back for more? Well, here are three key things that customers like to read about in post-purchase emails…
Order status information
It might seem obvious, but first and foremost customers want to read about the status of their online order – after all, an informed customer is a happy one. What's more, this information validates any post purchase email you send out, opening the door for further communication.
The key here, though, is to provide precise information. Simply saying: "Your order has left our distribution hub and will reach your chosen destination in approximately three to five working days" can do more harm than good, as it provides no detail and will just be viewed as annoying. You need to tell customers:
When their order is received and processed

When it has been shipped

When – exactly – it will be delivered
Give them the opportunity to track their parcel. And if the order can't be delivered to their house, tell them exactly where it has gone and how they can get it. If relevant, for example, the opening times of the local post office and include a map with its exact location.
Also be open and honest about any problems concerning the order. If shipping is delayed for some reason, or a customisation process is taking longer than estimated, or the order is held in customs, whatever the issue, it's vital to keep people informed every step of the way.  
Additional product information
Once you've fulfilled the customer's main need by providing accurate, timely information about the status of their order, you can capitalise on getting their full attention by telling them a bit more about the product they've just bought. Alongside confirmation that a new food processor is on it's way, for example, you could send a video tutorial explaining how to get the best out of the new device. Alternatively you could send through assembly and cleaning instructions, or a selection of recipes. Or all of the above…
A fashion retailer could include a feed to its Instagram account, showing its latest style posts. A bike store, meanwhile, might incorporate a link to cycling routes close to where the customer lives or include the address of a local partner bike store that could help with personal adjustments and servicing.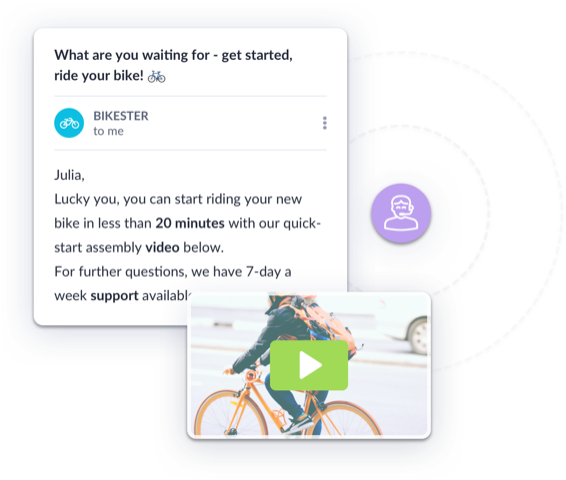 All this additional information is highly relevant and useful to the customer and their order, adding real value to the purchasing experience. What's more, it shows that the retailer is an expert in their field, assuring the customer that they have purchased from the right place. This helps to build up customer loyalty, driving revenues through repeat sales.
Relevant advertising
By providing key order status updates and valuable information, you've earned the right to be able to advertise to your customers during the post-purchase process. However, it's vital that it should be kept in the background so as not to distract from the core purpose of the email: to keep customers informed about the progress of their order. Just remember: information comes first and advertising second.
Any advertising should also be directly related to the ordered product. A bike retailer could advertise a safety helmet to go with the customer's new purchase, while a fashion retailer could recommend trousers that would match the ordered top. This not only encourages purchases, but also meets GDPR requirements.
Making the most of the post-purchase customer experience in this way – and there's plenty more scope to be creative – plays a key role in strengthening customer relationships, building loyalty and encouraging additional sales. In an increasingly competitive global marketplace, it really is an opportunity that's too good to miss.
Julia Henry is Post-Purchase Manager at parcelLab
A version of this article was recently published in Better Retailing | Dec 2018