EachforEqual is a message close to the heart of ABM Aviation's female leaders – not only have they seen the industry open up for women over the course of their careers, but in their day-to-day work they are driven by the pursuit of making air travel an accessible and enjoyable experience for all passengers. Airports are the portal to the world, so who better to discuss this year's International Women's Day theme of the 'enabled world' than four female figureheads from the UK wing of airport services supplier ABM Aviation? With an offering that spans cabin cleaning, ground handling, facilities management, airport welcome teams – and a key area of specialism, Passengers with Reduced Mobility (PRM) – we wanted to know how the aviation industry is delivering on equality.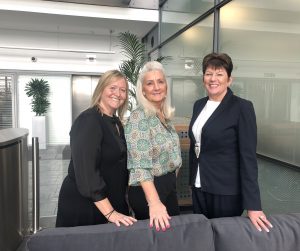 Samantha Saunders, Head of Innovation and Regulatory Compliance, began her career in aviation in 1984; she describes the industry at the time as having "very defined female roles; cleaning, cabin crew, telephone sales – my perception was that there were very few women in senior positions. I then became aware of a woman by the name of Barbara Cassini, who was in the marketing and sales team for British Airways. She went on to launch 'Go', BA's first low-cost carrier in Stansted and she stood out as a shining light for me in terms of what was possible for females in aviation. Her rise signalled a change in the industry."
Kate Glassup, Customer Service Director at Heathrow started her career in aviation at the same time as Saunders: "I began working part time in the evenings in cabin cleaning. Loving the buzz and interaction where no two days were the same, I started full time as soon as my children were of school age. From there, as and when development opportunities became available, I applied. I worked through the ranks, including HR, training, commercial and eventually settled into a senior operational role." Glassup is an impressive example of steady career growth achieved by the hard work of an individual keen to embrace training and development opportunities.
It's always hard to say whether shifts that allow the progression of women in industries are bolstered by policies, advocacy, cultural shifts, individualism – or a complex combination of all of these factors. 
"By the late 90s there were lots of emerging senior female managers who I was suddenly aware of. I took my first management position in 2004 and by that time we were seeing a big influx of new managers at Heathrow, a vast majority of which were female", notices Saunders. 
Samantha Simmons, Terminal Manager PRM located at Heathrow's Terminal 4 agrees, "There has been a vast improvement generally in the last 10 years; I've reported into females and males equally. Heathrow in general is well known for equal opportunities, where we regularly see women in senior positions." 
ABM Aviation has its own 'shining light' – US-based President Alex Marren – who has worked in aviation for 25 years and continues to support fellow females through her sponsorship of the initiative 'Advancing Women's Excellence in Supply Chain, Operations and Education'.
The importance of visible role models who can inspire (the 'if I can see it, I can be it' mentality) is considered by some to be reductive, however the ABM Aviation team recognise this as an important driver – even when what is visible is a clear lack. Glassup says, "In many ways, it was an obvious gender gap that drove me to apply for any management position that became available. I was unsuccessful on my first attempt, but determined to achieve, I never gave up, and I am now in a position where I can hopefully be a role model and mentor for other women who want to progress into senior leadership positions". 
Saunders previously mentioned the aviation industry's historical 'gendering' of job types. On whether this is still the case, Kate Newcombe, Head of Aviation Services Stansted Airport comments, "Aviation is slowly becoming a more equal environment for women however, like a lot of industries, it is taking time to see these opportunities fully extend to senior roles. Blue Handling [a Stansted Ground Handling Operation partnership jointly operated by ABM Aviation and Ryanair] employs many female staff on the ramp although numbers are still lower than their male counterparts. Blue Handling is headed up by myself, with the support of Karen Andrews who has been within Ground Handling Operations for over 10 years. As a female in aviation you often find yourself working against the "old boy's network" of old-fashioned views and attitudes amongst successful men with many years' of experience. On a positive note, the younger team members in all roles are receptive to female managers and the different outlook and style that this often brings with it."
Lisa Ings, ABM Aviation's Bid Manager based at Gatwick agrees: "The industry is still biased towards men but it's rapidly changing as there is much better awareness of equality and diversity. Many airlines now offer programmes to assist young women to become pilots, and the number of women in the leadership teams of aviation service providers are growing which in turn is having a great impact in terms of strong role models for other women to be inspired by." Glassup agrees that "the biggest obstacle is as simple as awareness; many women may not be aware of the career opportunities open to them in this sector. That's why we need commitment by the CEOs of companies to encourage women to realise their potential and pursue careers in the aviation industry. One way for encouraging women to enter aviation and stay in it, is by raising awareness of role models available to young women today."  
ABM UK (a sister-company of ABM Aviation) is working to increase awareness in young people about the breadth of career opportunities in the facilities management and engineering industries. The Junior Engineering Engagement Programme (J.E.E.P) was established by ABM UK to 'change the face of mechanical and electrical engineering in the UK, [and] to inspire and establish a new and enthusiastic generation of young talent'. As part of the programme, ABM UK carried out a survey of 2,000 British parents of young people aged 11 to 16 and 2,000 young people aged 11 to 16*. 
Encouragingly, the study found that just 16% of the young people surveyed considered technical jobs to be 'for boys', and just 21% of the girls said the word 'engineering' made them think of boys. Despite these findings, 89% of the UK's current engineering workforce are male. Another interesting finding from the study revealed that 39% of the young people identified their 'mum' as a key influence on their career choice (just ahead of 'dad', at 25%). Mum's ranked as the second most important influence on their child's perception of their own career choices. Through seeing what their mother's do and listening to their mother's attitudes towards certain occupations and industries, young people are taking cues.
So, what advice would our ABM Aviation executives give to young women just starting their careers in aviation?  
Newcombe: "Aviation, like all industries, is never personal and you need a strong character to withstand the high demand, stress and ever-changing environment. My advice would be to learn your trade, learn your customers and adapt your demeanour accordingly. It is imperative that women are adaptable to change and indeed drive the change to make aviation a more inclusive workplace. Aviation is also a good career choice for women with families as it is a 24/7 environment that never stops and therefore can offer great flexibility". 
Simmons echoes this: "First and foremost, learn your operation from the grounding up, take advice from colleagues and listen to positives and negatives. There are so many different roles within the aviation industry – take the time to find one that you enjoy – whatever you choose you are guaranteed challenging fun and no two days the same." 
Ings suggests putting yourself forward for learning opportunities as often as they arise: "I'm a big advocate of training and personal development. I've been very fortunate that my employers have supported me in studying for qualifications from the Chartered Institute of Marketing, Prince2 Project Management and more recently the Association of Proposal Management Professionals (APMP). Learning on the job is just as important, particularly in the aviation sector – nothing can replicate going airside at an airport, getting up close to planes and the supporting equipment and speaking to those delivering services on the front line. Be interested in everything and make no assumptions. Speak to businesses like ABM Aviation to find out the latest opportunities for project placements, work experience and finding a mentor to work with." 
Glassup agrees that mentorship can be beneficial at any stage of your career: "We can all use some guidance, and mentorship is a huge difference-maker in my opinion, especially for people just starting out. Identify a role model for guidance and support. I believe this is particularly beneficial for professional women, who do best when they're able to get some insight and advice from other professional women. Don't let opportunities pass you by when they present themselves, even if they make you uncomfortable, think of them as key learning opportunities. This is where the benefits of a mentor will assist you." 
Never one to pass up 'key learning opportunities', Samantha Saunders admits she is still always building on her understanding of the challenges faced by airport users. "About five years ago, after 30 years in the Aviation industry, I started a new position that focused on passengers with reduced mobility (PRM). I walked into a new world and quickly realized I had absolutely no idea about it. All my previous experience fell by the wayside. The airport processes that I had worked on and adapted over the years were very often the blockers that stopped disabled people from having the confidence to travel."
Although one in seven UK citizens is disabled, Saunders says that less than 2% of all passengers request any form of assistance. "It is only the environment that disables people, not their conditions. If we ensure that inclusion is at the forefront of our thinking when considering making changes to things like infrastructure or processes, we will create spaces and experiences that support everyone who uses them."
Newcombe says 'back to the floor' days help her to better understand the needs of the PRM services, "I will work in the operation, especially at peak times, so I understand the challenges seen by staff and passengers. I will help push wheelchairs and drive vehicles airside in order to understand if there are better ways of operating from a business perspective, and of course from the passenger experience view-point."
ABM Aviation UK is involved with a number of initiatives and partner organisations aimed at making aviation more equal, both for those working in the industry, and the customers who use airports. As a 'Disability Confident Employer' of Level 2 status, a Strategic Founding Partner for the #PurpleLightUp movement (and Saunders as a Global Ambassador), members of The Valuable 500 and supporters of TfL's 'It's everyone's journey' campaign – not to mention long standing partnerships with charities Colostomy UK and the Queen Elizabeth Foundation – the 'enabled world' is clearly high on their company agenda. 
All the women profiled here have experienced being pigeon-holed with 'female' stereotypes at some point in their life. Realising how frustrating stereotyping is, they said that creating an environment where passengers could be seen as individuals was a key driving force. "When you meet a disabled person, you have met only one disabled person. No one solution is appropriate for all; everyone is unique, and we need our teams to have the confidence to ask the right questions to shape the right experience. Maya Angelou famously said that people will forget what you said and did for them, but they will never forget how you made them feel. Our individual behaviours have a direct impact on a passenger's experience."